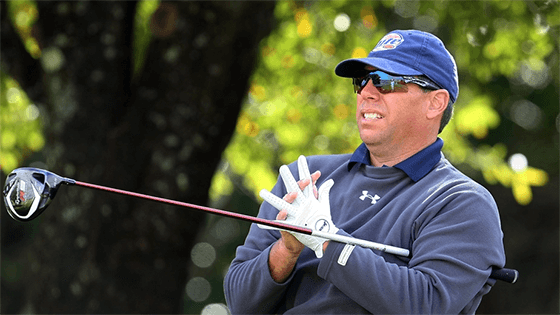 CARL PAULSON: THE ROAD BACK TO THE TOUR (PART II)
There is not one lead-in, in which can give one the true sense of the amount of work and determination Carl Paulson, PGA Tour professional, has been doing since we first introduced you to his situation in our Spring 2007 issue.
Carl, for the most part has not only continued to work daily on recovering from his back injury suffered in a 2006 tournament, he is more determined than ever to return to the tour, golf fit and mind strong.
In Part I of our story, we introduced you to Paulson, his world-renowned Neurosurgeon, Dr. Robert Masson, of Masson Spine Institute in Central Florida, and his physical trainer Charles Goodnough. With the decision to forego spine surgery because of his athletic career and his livelihood depending on him playing golf again, Carl and the team at Masson Spine Institute put together a sport specific program that would focus returning Carl to the course and protecting the injured area " I knew that if I could challenge myself to try to correct my injury through physical strength training, that my golf game would benefit from it immensely, I just had to challenge myself, my patience and my mental attitude to not give up and know that this would be the best solution," stated Paulson.
As we sat down one afternoon after his daily workout with his trainer Charles Goodnough one of the many team members from the Masson Spine Institute, we had the privilege of discussing where Carl is at this point in his recovery since our last conversation, his plans of returning to the tour, and most importantly the basis of his daily work-out routine.
Golf Fitness Magazine: So how are you doing this month Carl?
Carl Paulson: "I am feeling stronger than I ever have, my body is definitely transforming."
GFM: Charlie, tell us a little bit about your background.
Charlie Goodnough: As a physical trainer for over 28 years, a former football player, wrestler, and owner of several gyms, I am now at a point in my career as a Physician's Assistant specializing in Neurospine, in which I have seen all aspects of how proper strength training and fitness can prevent and rehabilitate injury, and I have seen how the wrong type of training can cause injury. In Carl's case, we have integrated a system in which we concentrate on certain muscle groups, specifically the core, which is the area from the collar bone to the pelvic bone. However, overall conditioning is key, so we are not overlooking the rest of the body, just placing emphasis on his core.
GFM: Charlie, what do you feel should be any physical trainer's purpose when you train or rehabilitate someone?
Charlie Goodnough: A good trainer has two purposes, to motivate and to educate. As in Carl's case, I expect him to be able to walk away and in time do things on his own and know what muscles to work on, and what to muscles to protect.
GFM: Can you be a little specific in describing Carl's program to our readers.
Charlie Goodnough: In the system that we designed for Carl, we are making sure that his body progresses, but at the same time we are keeping him in a safe comfort zone, but not allowing his body to get to adjusted to a specific way. If we allow his body to get too used to one specific routine, it would prohibit growth in a positive direction. This could then affect him directly on the course. By continually changing things around, this allows him to utilize his full swing capacity on the course in whatever the situation might be—this utilization of full muscles strength, control and capacity on the course is of course called Pro Golf—and that is what we strive for daily.
On the technical side of things, we have put Carl on a 3 muscle group type rotation, this rotation consists of the primary, secondary and then primary muscles again. We begin with warm-up, then go into our comprehensive program and then do a sport specific activity for Carl after the workout. Like singing the golf club 20-30 times.
GFM: Carl, what is your confidence level like now?
Carl Paulson: Since I first started my road to recovery, my confidence level has gone up immensely. Knowing your body and being in control of your body and your muscles allows you to ultimately be in control of your swing. When I first began working out, I could barely do 17 push-ups, now I am doing anywhere from 200-500 each time we work out.
Charlie Goodnough: Carl's work ethic is very good and he is very easy to work with.
GFM: Carl, what is next, I mean what do you hope that our third part to this series will reveal to our readers about your recovery?
Carl Paulson: I would hope it would be about how I am spending the majority of my time on the course and not in the gym and that my body has made a complete transformation. Also, most importantly would be that in my on course practicing, I have learned to apply my training to my swing. Last but not least would of course be my plans to return to the tour!
Stay tuned for the fall issue of Golf Fitness Magazine, in which we see how Carl is progressing and we follow him on the course and talk about his plans to return to the tour.