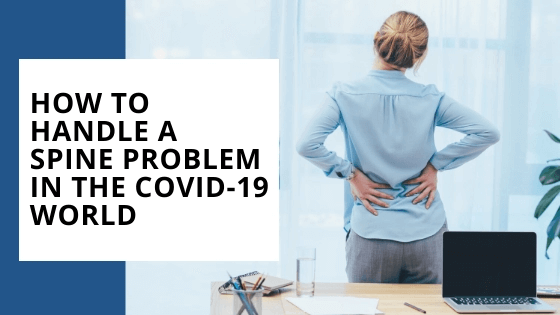 HOW TO HANDLE A SPINE PROBLEM IN THE COVID-19 WORLD
At Masson Spine Institute, we think medical care is not something you can afford to put off, when it gets to this level of severity and our exceptional focus in these simple severe conditions helps you maximize your return to your life and goals. All of our surgical remedies are minimally invasive.
HOW TO HANDLE A SPINE PROBLEM IN THE COVID-19 WORLD
Living with back pain isn't an option for most because it can limit your activities and movement. The need for proper pain management and back treatment doesn't change even as we change the way we approach things in our lives. COVID-19 has us rethinking how we communicate, how we socialize, and even how our kids learn. So, what can you do to handle a spine problem in the COVID-19 world?
THE IMPORTANCE OF GOOD SPINAL HEALTH
Your spine provides your body with its primary system of support. It allows you to move freely and maintain your balance, whether you're on the field or working in the yard. When there is a spinal disc disorder, resulting in severe pain, weakness or numbness, not only is the risk of permanent nerve damage a concern, but overall movement and performance is severely affected. Spine disc conditions of the neck and low back can completely 'take you out of the game.'
DON'T PUT OFF MEDICAL CARE
People throughout the country are avoiding the medical treatment they need out of fear of getting and spreading this virus. At Masson Spine Institue, we are doing our part to ensure both our staff and our patients are safe during the pandemic including:
Offering you a private clinical team of specialists
Providing you with a private operating room
It's all part of the concierge system we offer at Masson Spine Institute. Through our concierge medical program, you get the individualized care necessary to limit your exposure to the virus and give you access to the medical treatment necessary for your spine problem.
There is something you can control during this pandemic — your health. Masson Spine Institute is concierge care dedicated to you, the patient.
Don't let the pain in your neck or spine get in your way. Schedule an appointment today by calling Masson Spine Institute at (407) 649-8585 for our office at 2706 REW CIR, Orlando, FL 34761, and (435) 649-3317 for the 1820 Sidewinder Dr. Park City, UT 84098 location. You can also email us at This email address is being protected from spambots. You need JavaScript enabled to view it.