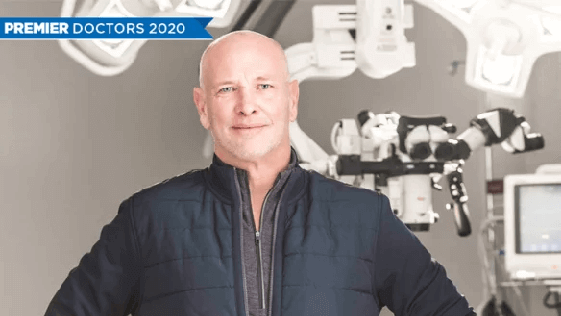 2020 PHYSICIAN SPOTLIGHT: MASSON SPINE INSTITUTE
Spine surgeon Dr. Robert L. Masson is an internationally recognized neurosurgeon specializing in minimally invasive spine surgery, specifically Microneurosurgical Spine Surgery, and sports spine medicine.
ABOUT THE DOCTOR
As the founder of the Masson Spine Institute 21 years ago, he serves as Medical Director of Orlando Health's JCAHO-accredited Spine Center of Excellence at Health Central Hospital in Ocoee. Dr. Masson performs surgery at the Masson Spine Institute (MSI) Outpatient Surgery Centers of Excellence in both Orlando and in Park City, Utah. Patients and surgeons travel from all over the world for advanced micro-surgical spine surgery strategies, solutions, techniques, and training. Dr. Masson, himself a spinal reconstruction patient and lifelong adventurer, is a passionate advocate for prevention, wellness, fitness and ultimately extreme recovery in the face of spinal injury. He has performed over 13,000 microsurgical spine procedures, with a focus on spine solutions for cervical and lumbar disc disorders, grade 1 and 2 spondylolisthesis, sports spine surgery and cervical artificial disc surgery. He has served as one of several chairmen, globally, of surgeon training and certification in the use of the artificial disc Prodisc, and is a principal investigator in the 2020 Prodisc C two level FDA clinical study.
EDUCATION
Dr. Masson received his medical degree in biomedical engineering with honors from the University of Florida. He stayed in Gainesville for Neurological Surgery Residency, finishing in 1995 with special training in Microneurosurgery and minimally invasive spine surgery.
INNOVATIONS
Dr. Masson is the founder of Expanded Existence, Augmented/Mixed Reality Solutions Company (expandedexistence.com), and has several patents pending for the use of augmented and mixed reality technology for the next generation of health care, with a focus on artificial intelligence and machine learning.
RECOGNITION
PREMIER DOCTORS
Robert Masson, MD, FACS
This article appears in the December 2020 issue of Orlando Magazine.