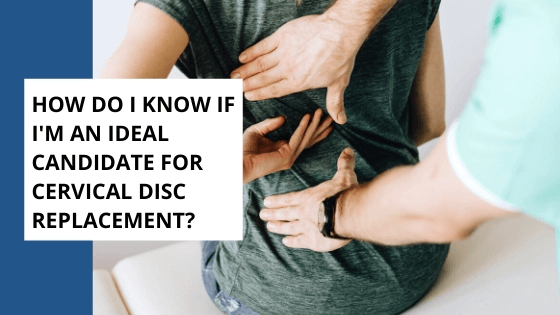 HOW DO I KNOW IF I'M AN IDEAL CANDIDATE FOR CERVICAL DISC REPLACEMENT?
If you are experiencing neck or back pain, then you have multiple treatment options available. For example, you may start off with over the counter medications before trying prescription medications or physical therapy. In some situations, cervical disc replacement might be recommended to you. What are cervical discs and why would this procedure be helpful for you?
WHAT ARE CERVICAL DISCS?
Cervical discs are like small cushions that sit in between the vertebrae in your neck and upper back. The job of these disks is to provide a cushion for the vertebrae in your back while also providing protection for the spinal cord. Think of these discs as small pillows. Over time, these discs may become dehydrated. Or you may injure them in a traumatic accident. In this case, you may damage one or more of the cervical discs in your neck or upper back. In some cases, you may be able to recover with medications and physical therapy. In other cases, these discs might need to be removed and replaced with an artificial variant. That is where a cervical disc replacement can be helpful.
WHY WOULD CERVICAL DISC REPLACEMENT BE NECESSARY?
A cervical disc replacement might be recommended to you if you are suffering from severe neck or upper back pain. Some of these situations where a cervical disc replacement might be necessary include:
You are experiencing nerve pain in your neck that is not getting better with medications or physical therapy
You have tried non-invasive procedures and they have not been helpful in alleviating your symptoms
You have been unable to move your neck or upper back for an extended amount of time
In these situations, your doctor may discuss the prospect of a cervical disc replacement with you.
WHO IS A CANDIDATE FOR CERVICAL DISC REPLACEMENT SURGERY?
Not every patient with neck pain will benefit from cervical disc replacement surgery. Some of the characteristics of an ideal candidate include: A radiological scan has confirmed degenerative cervical disc disease You are experiencing neurological deficits or nerve pain caused by a problematic disc in the cervical region of your upper back Non-surgical treatments, such as physical therapy or medications have been tried and have failed You are a solid candidate for neck surgery, such as being in good overall health with minimal chronic health issues If you fit these parameters, then it might be a good idea to speak with a surgeon about the prospect of cervical disc replacement surgery.
CONTACT MASSON SPINE INSTITUE FOR MORE INFORMATION ON CERVICAL DISC REPLACEMENT
If you are interested in learning more about cervical disc replacement surgery, then reach out to Masson Spine Institute today for more information. At Masson Spine Institute, we will work with you to find the right treatment option to meet your needs. Dr. Masson will listen to your situation, review your options with you, and help you make the best possible decision for your injury or illness. Contact us today to learn more about our treatment options!